[Say Goodbye To Germs]: Easy-to-use CPAP cleaner Clyn – simply press 1 button then kills 99.9% of germs, viruses, a

nd other pathogens

. No disassembly, No water, No chemicals. Set up in 1 minute for cleaning and leave it. Order to stop hand washing your CPAP, BiPAP, hose, and accessories.
[Save Your Time]: Say goodbye to tired everyday handwashing, 30 minutes to sanitize the CPAP machine, mask, and tubing completely through a stream of controlled activated oxygen. Enjoy the most advanced CPAP cleaner and sanitizing machine. Clyn is the most innovative automatic CPAP cleaning system.
[Safely and Quickly]: Odor-reducing technology reduces the unpleasant smell from the mask, tubing, and machine reservoir, and the 2-speed fans will blow fresh air through in the last 10 minutes of the cleaning cycle. Can be used for different places, like a home, bedrooms, kitchens, bathrooms, hotels, and offices, etc.
[Excellent After-Sales Service]: 30-days no-risk money-back guarantee, 12-months free replacement policy, 18-months parts manufacturer warranty. Compatible with most CPAP machines.
[Exclusive Premium Travel Bundle]: This does not require purchasing any more parts. What you will get?
✅ 
1x Clyn CPAP Cleaner Machine
✅
 1x Heated Tubing Adapter
✅
 1x AirMini Tubing Adapter
✅
 1x T Shaped Adapter (Optional) 
[Product Specifications]:
✅ Model: Clyn CZ001
✅ Weight: 210g
✅ Power: 4W
✅ Battery: 2600mAh
✅ Certification: FCC, FDA listed
✅ Dimensions: 120 x 50 x 50mm
✅ Output: A/C 100-240V, 50/60Hz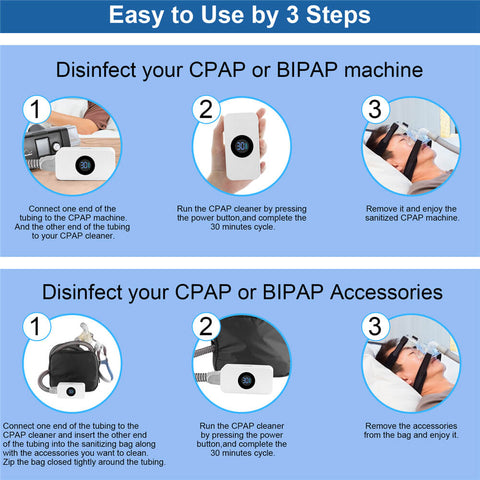 Easy to use, 30 minutes to sanitize your CPAP or BIPAP Machine and Accessories.
All CPAP/ BIPAP machines compatible. Also, Clyn CZ001 does not require purchasing any other part.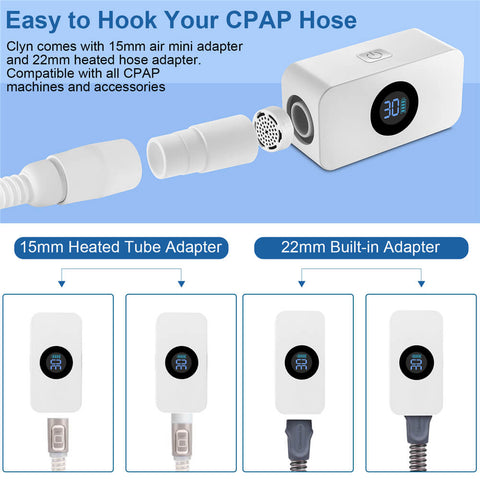 Clyn CZ001 comes with a 15mm air mini adapter and a 22mm heated hose adapter. Compatible with all CPAP machines and accessories.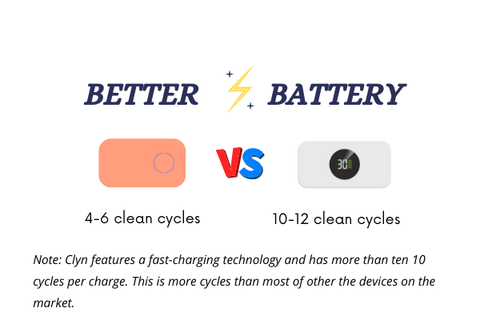 The battery is fast-charging and has more than ten sanitizing cycles per charge. This is more cycles than most other devices on the market.



30 Days no-risk money-back guarantee
12 months free replacement policy
18 months parts manufacturer warranty
US/CA Amazon warehouse free shipping
Our goal is to offer you the best shipping options, no matter where you live. We deliver to hundreds of customers across the world every day, and we strive to provide you with services of the highest level. All packages will be shipped from the US warehouse.
The time frame of order delivery is divided into two parts:
Processing time: 1-2 Business day, shipping time: Express Delivery 3-7 Business Day ( 3-5 Business Day to USA/ CA )
Cooperated Logistics Company Included: UPS/USPS and Amazon Logistics.
Worldwide Free Shipping!
Simply enter the order number you were provided when you completed checkout and the e-mail address you used to place your order.
Click Here to track your order.
We will fetch your order status, along with a "clickable" tracking number if your order has been fulfilled. Orders are fulfilled by the next business day M-F.
If you don't have your order number handy, search for the order confirmation email that was sent from "clyncare@outlook.com". Please note that your order confirmation email may be in your junk or spam folder.
Save Time & Money
No water. No chemical. Better battery & fast charging technology.
Speedy & Automatic
In 30 minutes, Clyn will have your CPAP's supplies and accessories completely sanitized
Better Sleep & Health
Enjoy peace-of-mind knowing your equipment is maintained daily.
CPAP Cleaner and Sanitizing Machine | Clyn CZ001